Citizen Aqualand Battery Kit (seulement 3 Battery) Batterie Citizen watch diving
CITIZEN AQUALAND battery KIT
(3 battery new)
Shipping with tracking number !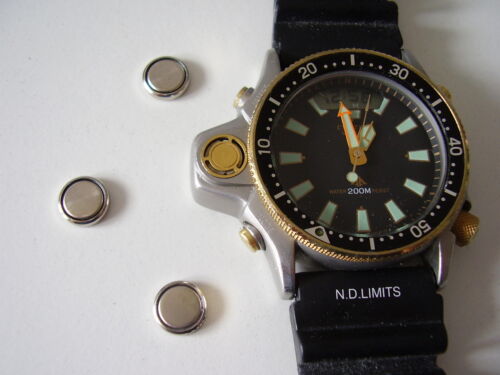 Price : 11 euros

ATTENTION : i do not sale the Watch CITIZEN
but only the 3 battery !
ATTENTION : pour changer les piles de la montre, il faut déjà être très minutieux.
travailler sur une surface très propre et sur une feuille blanche avec une toute petite boîte à portée de main pour ranger les 6 vis
il faut aussi avoir des tournevis d'horloger très fins
préparer un stylo ou autre objet fin et rond à proximité immédiate et positionné en horizontal (pour recevoir le joint torique le temps du changement de piles)
dévisser les vis en procédant comme pour une culasse de voiture (en haut, en bas, à gauche, à droite etc...)
mettre de côté les vis avec une petite pince brécelle très fine en faisant bien attention de ne pas les perdre (ou au dessus d'une cuvette)
dégager le couvercle en faisant attention au joint torique
le dégager et le poser sur le crayon à l'abri de la poussière
changer les piles en faisant légèrement tourner la languette dessus
éviter de toucher les piles avec les doigts humides ou graisseux
vérifier que tout est bien propre
graisser très très légèrement le joint torique et vérifier à la loupe qu'il n'y ai pas de poussières (risque d'entrée d'eau)
et le poser dans son logement lui aussi bien propre
poser le couvercle sans aucune poussière
puis les vis et les visser suivant l'ordre précédent (en haut, en bas, à gauche, à droite etc...)
Ne pas serrer de trop tout de même.
Remettre tout à l'heure
Bonnes plongées !
Si vous ne vous sentez pas capable de le faire, faites le faire par quelqu'un qui en a l'habitude
Tous les 5 ans changer le joint torique ou si vous voyer qu'il est très aplati
(à voir sur Ebay, je n'en ai pas !)

Achtung: ersetzen Sie die Batterien der Uhr schon sehr vorsichtig sein.
Arbeit auf eine sehr saubere Oberfläche und ein weißes Blatt mit einem kleinen Kasten praktisch, speichern Sie die 6 Schrauben
Es muss auch sehr feine Uhrmacher-Schraubenzieher
bereiten Sie einen Stift oder anderen Runde Objekt in der Nähe, sofortige und positionierte horizontal (an der o-Ring die Batterie wechseln Zeit empfangen)
die Schrauben sehr für einen Zylinderkopf Auto (oben, unten, Links, rechts usw....)
beiseite die Schrauben, mit einer kleinen feinen Brecelle-Klammer, wobei Sie darauf achten, nicht zu verlieren (oder über einer Schüssel)
Entfernen Sie die Abdeckung, die sicherstellen, dass der o-Ring
Entfernen Sie diese und legen Sie sie auf den Stift vom Staub
Wechseln Sie die Batterien durch leicht drehen die obere Registerkarte
berühren Sie die Batterie mit nassen oder fettigen Fingern
Überprüfen Sie, ob alles sauber ist
sehr, sehr leicht einfetten der o-Ring und mit einer Lupe prüfen, ob er nicht Staub (Gefahr von Eindringen von Wasser) und legte in seinem Gehäuse, die es auch sauber
setzen Sie den Deckel ohne Staub
dann die Schrauben und die Schraube der vorherigen Reihenfolge (oben, unten, Links, rechts usw....)
Ziehen Sie nicht fest zu viel auf jeden Fall.
Stellen Sie die Uhrzeit
Tauchgänge!
Wenn man nicht in der Lage dazu fühlt, gemacht von einer Person zu tun, wer hat gebraucht
Alle 5 Jahre den o-Ring ändern oder wenn Sie Voyer, dass es sehr flach ist
(siehe bei Ebay, habe ich nicht!)
PRECAUCIÓN: cambie las pilas del reloj, ya que tener mucho cuidado.
trabajar en una superficie muy limpia y una sábana blanca con una pequeña caja útil para almacenar los 6 tornillos
También debe tener destornillador relojero muy bien
preparar un bolígrafo u otro, alrededor del objeto en la vecindad inmediata y en posición horizontal (para recibir el anillo en o tiempo de cambio de la pila)
Desenroscar los tornillos muy en cuanto a una culata de coche (arriba, abajo, izquierda y derecha etc....)
apartar los tornillos con una pinza pequeña brecelle bien teniendo cuidado de no perder (o sobre un tazón de fuente)
Retire la tapa, asegurándose de que la junta tórica
retírelo y colóquelo en el lápiz de polvo
cambie las pilas girando ligeramente la pestaña superior
Evite tocar la batería con los dedos mojados o grasosos
Compruebe que todo esté limpio
muy, muy ligeramente la junta tórica de la grasa y compruebe con una lupa que no hizo polvo (riesgo de entrada de agua) y ponlo en su vivienda también limpiar
Coloque la tapa sin polvo
Entonces los tornillos y el tornillo de la orden anterior (superior, inferior, izquierda y derecha etc....)
No apriete demasiado de todos modos.
Set todo el tiempo
Inmersiones!
Si te sientes incapaz de hacerlo, hecho por alguien que se ha utilizado
Cada 5 años cambie la junta tórica o si te voyer que es muy plana
(ver en Ebay, no!)


Dikkat: zaten çok dikkatli olmak seyretmek, pilleri degistirin.
çok temiz bir yüzey ve 6 vidalari depolamak için kullanisli küçük bir kutu ile beyaz bir levha üzerinde çalismak
Ayrica çok ince saatçi tornavida olmalidir
yuvarlak nesne çevresinde derhal ve yatay olarak (pil degistirmek zaman o-ring almak için) konumlandirilmis bir kalem ya da baska hazirlamak
silindir araba gelince çok vidayi sökün (üst, alt, sol ve sag vs...)
bir kenara vidalari kaybetmek degil dikkatli olmak bir küçük ince brecelle kelepçe ile (veya bir kase üzerinde) koyun
o-ring emin kapagini çikarin
çikarin ve kalem toz uzaga yerlestirin
biraz üst sekme çevirerek pilleri degistirmek
Pil islak veya yagli parmaklariyla dokunmaktan kaçinin
Her sey temiz olup olmadigini kontrol edin
çok çok hafif o-ring gres ve o degil (su girme riski) toz yaptim ve onun konut da temiz indir büyüteç ile kontrol
olmadan herhangi bir toz kapagi yerlestirin
o zaman vida ve vida önceki siparis (üst, alt, sol ve sag vs...)
Çok fazla zaten sikin degil.
Her zaman ayarla
Dalis!
Kullanan biri tarafindan bir sey yapamaz-e dogru yapmak düsünüyorsaniz, yapilan
Her 5 yil o-ring degistirmek veya size voyer bu kadar çok düz olup olmadigini
(bkz: Ebay, bende degil!)

Varning: Byt ut batterierna i klockan, redan vara mycket försiktig.
arbeta på en mycket ren yta och ett vitt ark med en liten låda som är praktiskt att förvara de 6 skruvarna
Det måste också ha mycket fin urmakare skruvmejsel
förbereda en penna eller andra runda föremål i närheten omedelbara och placeras horisontellt (att få o-ringen batteriet ändra tid)
Skruva loss skruvarna mycket som för ett topplock av bil (topp, botten, vänster, höger etc...)
avsätta skruvarna med en liten fin brecelle klämma försiktigt så att inte förlora (eller över en skål)
ta bort locket, se till att o-ringen
ta bort den och placera den på pennan från damm
byta batterierna genom att vrida något fliken topp
Undvik att röra batteriet med våta eller feta fingrar
Kontrollera att allt är rent
mycket mycket lätt Smörj o-ringen och kolla med förstoringsglas att han inte damm (risk för inträngande vatten) och lägga ner i dess hölje som det också ren
Placera locket utan damm
då skruvarna och skruva den tidigare ordningen (topp, botten, vänster, höger etc...)
Dra inte åt för mycket ändå.
Ange hela tiden
Dyk!
Om du känner inte kan göra det, gjorde göra av någon som har använt
Varje 5 år byta o-ringen eller om du voyer att det är väldigt platt
(se på Ebay, inte har jag!)


Caution: replace the batteries of the watch, to already be very careful.
work on a very clean surface and a white sheet with a tiny box handy to store the 6 screws
It must also have very fine watchmaker screwdriver
prepare a pen or other, round object in the vicinity immediate and positioned horizontally (to receive the o-ring the battery change time)
unscrew the screws very as for a cylinder head of car (top, bottom, left, right etc...)
set aside the screws with a small fine brecelle clamp being careful not to lose (or over a bowl)
remove the cover, making sure the o-ring
remove it and place it on the pencil away from dust
change the batteries by slightly turning the top tab
avoid touching the battery with wet or greasy fingers
check that everything is clean
very very lightly grease the o-ring and check with a magnifying glass that he did not dust (risk of ingress of water) and put it down in its housing it also clean
place the lid without any dust
then the screws and screw the previous order (top, bottom, left, right etc...)
Do not tighten too much anyway.
Set all the time
Dives!
If you feel unable to do so, made do by someone who has used
Every 5 years change the o-ring or if you voyer that it is very flat
(see on Ebay, I have not!
ATTENTION : i do not sale the Watch CITIZEN
but only the 3 battery
Technical manual of CITIZEN (original) and Setting Instructions for Movement Calibers on request after sell